Contemporary Art – A Viable Investment
The past few years have been full of turmoil for many areas of our lives and particularly for our finances, "economic uncertainty" is a term we have all become too familiar with. While significant global events, like the pandemic of 2020, have impacted the major traditional asset classes such as stocks and real estate, there was an unforeseen silver lining. The raised awareness of art as a feasible investment alternative, offering light at the end of a seemingly never-ending tunnel for some investors.
These unsettled times have consequentially led to more and more high net worth individuals diversifying their portfolios through the purchasing of art. Investors were noticing how the art market is independent of the stock market and is known as "currency neutral" which means resell value remains high even when the economy is poor. Contemporary art has proven particularly strong in this regard. As stated by most sources, art consistently delivers average returns of 7.6% with some boasting much higher numbers, in 2022 Maddox Gallery reported increases of 27.9% on some artists. With this in mind and the fact that the art market is independent to external pressures, contemporary art is becoming a much more secure long-term investment, especially heading into times of financial risk.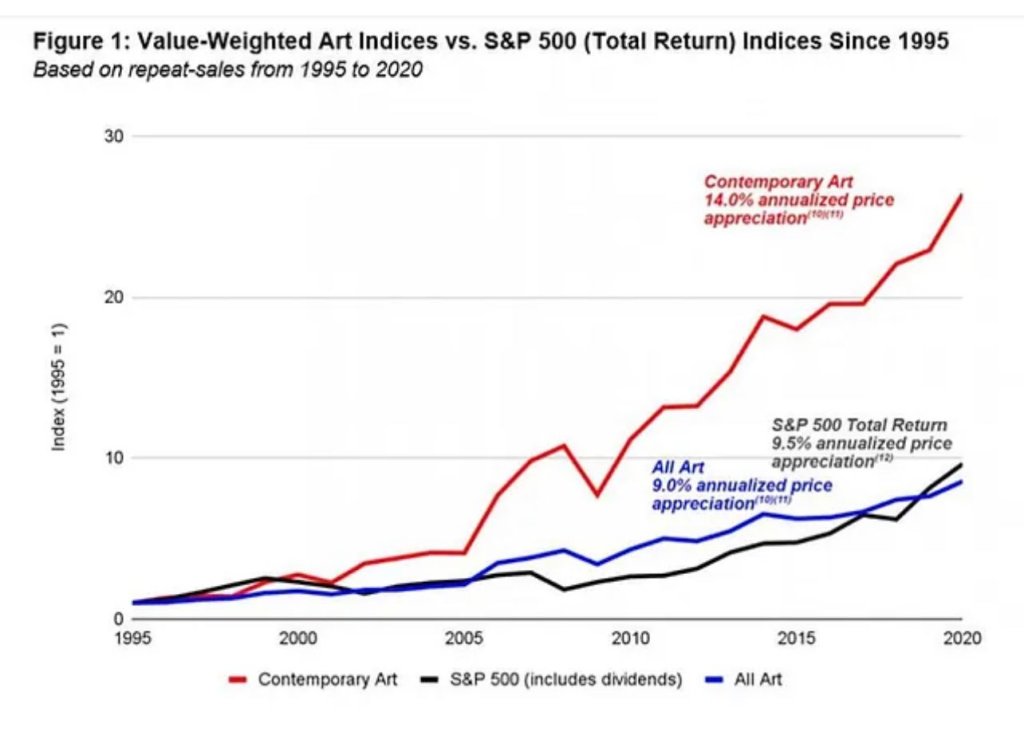 The art market has always been reluctant to change particularly with technology, restricting its development into ecommerce with figures showing only 7.5% of global art sales in 2019 being online, according to the Hiscox Online Art Trade Report. However, the shift into the digital world of sales was forced during the pandemic and the change was rapid, 2020 saw a jump to 15.8% of sales being online and even further in the years following showing that by the start of 2022 almost two-thirds of art buyers had bought online.
Thanks to the increased use of technology in the industry, contemporary art can be accessed by global buyers and investors at the click of a button, these potential collectors are also more informed with resources, provenance and pricing readily available on the marketplace. This quick adaptation to the online world has sparked a real interest in a younger audience and thus a new demographic for sales becoming dominant. In 2021, Sotheby's reported that the number of buyers under 40 had increased by 187%, and a study by Art Basel and UBS found that Millennials are now the fastest-growing constituency of collectors. The scale of this digital shift is probably best illustrated by figures reported in 2020 by two of the industries most established auction houses, stating increases in online sales for Christie's of 120% and for Sotheby's a whopping 413%.
Steve Winterburn has been actively involved in this new booming contemporary art world both physically and digitally. The platform that the online art marketplace has opened up has allowed Steve to showcase his work and talent alongside the master craftsmanship he and the family instil with Winterburn Fine Art, through his huge social media following as well as other mediums. Being able to build this provenance and story for collectors and investors to see has been invaluable and has added to the value of Steve's work metaphorically and financially.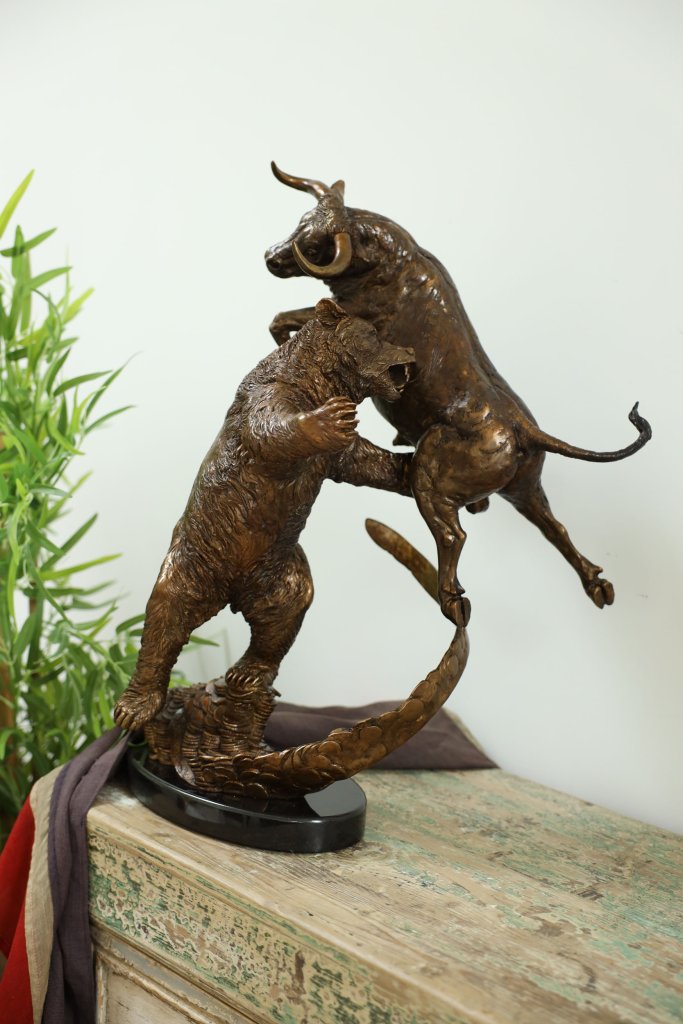 Over the past decade Steve Winterburn sculptures have appreciated considerably with growths of at least 100% across the board, and working with some of the most prestigious outlets on the planet and A-list clients those figures are only going to increase in the future. Steve has recently completed commissions and sold desktop sized pieces for figures in excess of £150,000. A long-time collaborator Richard Carrs, managing director of Carrs of Sheffield ltd, says "we are proud to note that the prices of these limited-edition pieces have appreciated significantly since our partnership's inception. Over the last decade, the value of these exceptional works has at least doubled, if not more."
All that being said, art is a non-liquid asset meaning it isn't necessarily quick to release your capital invested, this time scale all depends on the resell of the work. This is why finding art that you genuinely love and have a passion for is so important, that way it is not only an investment financially but also for your soul. Steve says, "sculpture is something that lives with you, it becomes part of your family and family's legacy" and this arguably is the number one reason for anyone to invest into a piece of artwork. Most investors therefore use art as a reliable long-term asset investment to add to their portfolio, with an emphasis on building their estate and inevitably passing to future generations. For Winterburn Fine Art, legacy and longevity are part of their core values, making timeless sculptures in precious metals is perfect for this generational wealth investing. Using materials like bronze ensures that these pieces will outlive generations to come, "bronze is as eternal as diamonds" as Steve's trademark states, which makes bronze sculpture a real strength for investing when considering the "Holding Period Effect". The Sotheby's Mei Moses index shows through repeat auction sale data, that works of art held for longer periods of time benefit most from this effect, Deloitte's Art and Finance Report solidified this further, stating that 88% of contemporary art investments held for over 10 years return a profit.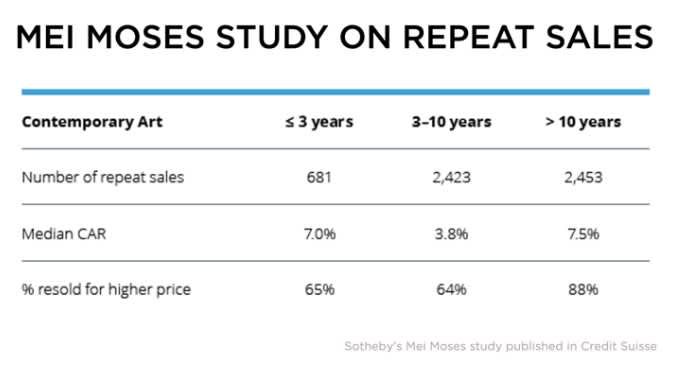 While investors are aware that no investment is entirely risk free, the increased access to information and data through the digital adaptation of the art world has given the confidence for many to expand and diversify their portfolios into this new frontier of contemporary art. It is exciting for the Winterburn brand to be involved with this new and ever developing marketplace, shaping legacies for the future with new and existing collectors.
The information in this article is not investment advice, for that you should consult a licensed professional.